FitVille Women's Rebound Core Shoes
Free shipping over $50.
Order takes 7 - 15 days to arrive.
---
The roomy toe box offers ample space for toes to spread naturally.
---
Patented PropelCore™ sole offers smooth movements with strong support.
---
High Resilience Memory Foam eases every stride with maximum cushioning.
Details

FitVille Rebound Core is more than something you put on every day. It is a shoe that keeps you in a pleasant state of mind despite foot issues such as plantar fasciitis, bunions, hammertoes, swelling, high arches, and other chronic foot conditions.

With our Patented Sole Technology, FitVille Rebound Core wraps your foot in ultra
protection. Also, it increases movement stability and sole support. Ideal for those who need extra cushioning and support at the arch and forefoot. The wide toe box and high instep design reduce the friction between your feet and the shoe to the
minimum.

The benefit of All-day comfort and cloud-like cushioning makes our Rebound Core more than a shoe, but an experience, called FitVille.

Materials

Upper: Premium-quality suede uppers for stable support and wear-resistance.
Insole: Ergonomic memory sponge foam Insole offering cushioning comfort.
Midsole: Patented dual-density EVA midsoles providing better support
Outsole: Rigid rubber outsoles for solid gripping and motion stability.
Width: Wide/2E and Extra Wide/4E.
Weight: Approximately 320 grams (based on a US size 8).
Origin: Designed with American ingenuity, manufactured with our Asian partners.
Care Guide

(1) Clean the shoes regularly.

(2) Wipe off any dirt from on the upper using a moist cloth.

(3) Air dry in a cool environment.

(4) Avoid direct sunlight or high temperature.

(5) Keep away from substances with sharp edges.
Shipping & Return

We are eager to bring FitVille to the world by offering international shipping.

It normally takes 7-15 business days for orders to arrive. Your order will be dispatched from the nearest warehouse with stock availability.

Please email us at contact@thefitville.com if you need to exchange or return the items, kindly notice the customer will need to be responsible for sending back the shoes to our warehouses in New Jersey.
Also Buy With
Designed For Wide Feet
FitVille Rebound Core shoe features both wide and extra wide toe box to provide the maximum level of comfort for those with wide or average feet.
Comfortable PropelCore™
FitVille Rebound Core will make your daily walk more comfortable. With the help of dual-density midsoles, shock-absorbing pad, heel ring, and a non-slip outsole, the ground-breaking PropelCore™ sole technology offers the ideal balance of comfort and support.
3X More Support
FitVille's patented sole gradually adapts to your unique foot shape with space-age foams that reacts to your body heat—providing all-day comfort and body alignment with a perfect heel, arch, and ankle support.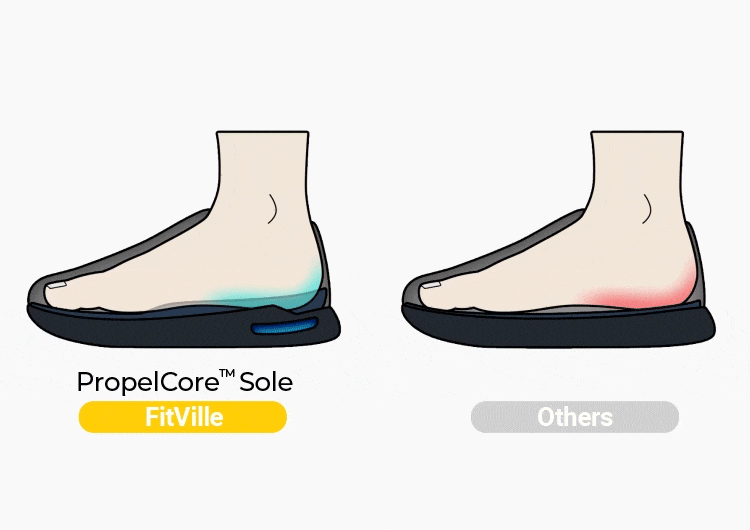 Questions & Answers
1. Why Choose FitVille Shoes?

Our patented PropelCore™ technology is a dynamic totality of the five core components: dual density sole, anti-skid rubber, heel ring, removable insoles, shock absorbing pad. PropelCore™ is our secret weapon in creating the most supportive shoes.

FitVille Comfort+™ technology puts comfort in motion. This advance technology follows the contour of your feet to enhance your movement.

Empowered by ErgoFit™ technology, FitVille shoes are of ergonomic designs that give you the amazing footwear experience. Springy cushioning minimizes impact and maximizes stability.
2. How long does it take to deliver?

On average it takes 7-15 business days for the order to arrive. However, some major holidays such as Memorial Day, Independence Day, Labor Day, Thanksgiving, Christmas Day, and New Year's day; there will be some delivery delays to all international destinations. However we send all international parcels via a tracked express shipping service so vou will be able to check on the progress of your order while in transit.
3. What Are The Benefits Of Wide Toe Box Shoes?

Wide toe box shoes are an excellent option if you're looking for shoes that prioritize your foot health. It can improve your overall foot health, comfort, and performance.

Improved comfort

Wide toe box shoes allow your toes to spread and move freely, reducing the pressure on your toes and improving overall comfort.

Better balance and stability

You can feel a more steady and wider base of support by spreading out the toes, which can improve your overall balance and stability.

Reduced risk of foot problems

Wide toe box shoes reduce the risk of bunions, blisters, and other foot problems caused by tight shoes.

Improved blood circulation

Increases blood flow to the foot, reducing symptoms such as numbness.
Pure Comfort For My Problem Feet
I have bilateral medical foot problems. This will be a very long review with lots of details. Firstly, I am very picky and have to be with my foot wear. I wear custom orthotics in my tennis shoes. I have very flat feet. Left foot is fused and has been reconstructed with metal hardware near my arch area. My right foot, is very flat too. Although not in such bad condition, I have had a reconstructed Achilles Tendon that was totally ruptured in my right foot.
I have to be very picky with the shoes that I wear. I require maximum support, rigid soles, wide toe box because I now suffer from surgical related neuropathy in my feet and toes due to nerve damage from multiple surgeries that I've had on my feet.
I normally only wear another very well known brand of shoes that has always been everything for my feet. Until recently, I wanted to try and venture out and discover the possibility of more options. I have been noticing that alot of shoe brands are going to mess sided athletic shoes. While these are nice for your average person because they are lighter and more breathable, for someone with my type of foot problems, the fully mesh sided athletic shoe does not give enough sidewall support for my feet. I find that too much mesh makes my feet slide over the sides of the shoes and doesn't keep my foot stable enough, even with my custom orthotics.
I looked at these shoes for a few months. Kept reading reviews and watching videos. Finally they went on sale. I couldn't beat the sale price to atleast give them a try. So I did and I DO NOT REGRET my purchase!
I love these shoes. Not only do they look nice but most importantly, they feel so good on my feet. They are everything my special feet need. Supportive, wide toe box, rigid sole (not all that foamy, super soft, squish, flat out when you walk stuff). These shoes are great! I didn't have a break in period for them. My custom orthotics fit perfectly inside them. I did remove the insole that came in the shoes. Size runs normal. I wear an 11w in an athletic shoe and I purchased an 11w. They fit perfect. I was concerned about the size because so many people have said they run big and super wide. I did not find this to be my case. Maybe because I have custom orthotics and most of the time when dealing with custom orthotics, most will need a wider shoe to allow for the orthotics to fit properly inside. Anyway...the shoes are a bit heavier than I am used to but that is to be expected when you aren't dealing with a 100% mesh sided shoe and one that provides quality support and rigid soles. They do look a little more chunky than a traditional thin sided athletic shoe but again, when you are not looking for a soft sided shoe, you will have a more chunky looking shoe. However, they aren't so chunky that I look like an Ogre or Hobbit when wearing them. They are nice looking, well made shoe. Lookwise, they remind me alot of another well known brand of shoes that has two intials on there shoes.
I walk daily, i jog sometimes, i am active and these shoes have been great on my feet. No complaints. My heels feel stable in them. The ankles area where the tongue of the shoes are do not bother my fused left foot. Some shoes really irritate my left foot near my ankle because of my fusion. These do not and I believe it is because they are well cushioned on the tongue. I'd definitely recommend these shoes to anyone who has similar needs as I have or if you have other foot issues like plantar fasciitis, or neuropathy. These shoes are supportive, very cozy, plenty of room in toe box without being too much. Try them like I did..I don't think you will be disappointed. I LOVE THESE SHOES. Will buy more when they go back on sale. I do wish there were many more color options available.
Great shoe
Really like them. Fit well. Shipped fast.
Muy buenas
Me gustan las tengo para trabajar para mi muy comodas
I ordered a women's sneaker size 81/2 wide received men's size 7.Too narrow I had to pay 17.00 dollars to return before I received my refund.Hard to reach and get information about my refund take pictures before I was able to get address of where to send return.The 17.00 was not reimbursed.I would never do business with Fitville.Stop sending me any emails